03

Shikoku pilgrimage : Konsen-ji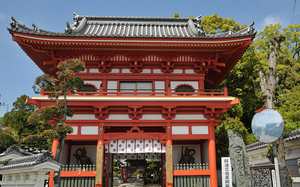 Konsen-ji Temple is the third of 88 temples of Shikoku pilgrimage. Konsen-ji means Golden Spring Temple . This temple is famous for bringing luck since Yoshitsune stopped here, in 1185, to pray before defeating the Taira in the famous Genpei war. The tomb of Emperor Chōkei (14th century) is located inside the Konsen-ji Temple. It is also known for curing certain disabilities.
Temple history :
This temple would have also founded by Gyoki in the 8th century according to the legend, under the orders of Emperor Shomu. At this time it was called Konkōmyōji. When Kōbō-Daishi visits the region, in the 9th century, the country is victim of a drought. So he wants to dig a well and suddenly the water flows, it's like a "Fountain of gold" for the people and the temple is renamed the temple of the fountain of gold Konsen-ji (金泉寺) The temple was destroyed by Chōsokabe during the war at the end of the 16th century during the Tensho period. The main hall (hondō) was rebuilt during the Tokugawa area.
Useful information:
Shikoku Pilgrimage Temple Number03 Konsen-ji : Access
Public transit
From the train station JR Kotoku Line Itano Station 10min walk (25-35min train from Tokushima Staion ). Train arround every 40 minutes.
By Bus : Walk 1 minute to  Niban-Fudasho-mae Stop ( (二番札所前バス停) Take bus bound for Itano-Eki-minami Stop( 板野駅南バス停). Arround 10 minutes walk until temple No. 3 Konsenji. Bus every 2 hours
Bus Time Table Gokurakuji -> Konsenji
From Niban-fudasho-mae (二番札所前) To Itano-eki-minami ( 板野駅南)
Week
Saturday
Sunday
8:03
8:03
8:03
10:03
10:03
10:03
12:06
12:06
12:06
14:06
14:06
14:06
16:06
16:06
16:06
18:03
18:03
18:03
Meteo : Konsen-ji Itano, Tokushima prefecture