05

Shikoku pilgrimage : Jizō-ji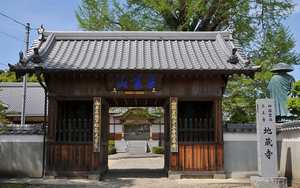 Jizō-ji Temple is the fifth of 88 temples of Shikoku pilgrimage. Jizō-ji means Earthbearer's Temple. One of the points of interest of this temple is the collection of 500 statues of Rakan, a Buddha disciple. Each face having a different expression. On Henro Michi, the Shikoku pilgrimage trail, there are 5 temples with Jodō Bosatsu as the main deity. Only the Jizō-ji temple has Shōgun Jizō Bosatsu as Honzon
2km
Dainichi-ji

05

Temple No.05 Jizō-ji / 第五番札所 地蔵寺

Earthbearer's Temple

5,3km
Anraku-ji
Fondation
Kōnin period year 12 (821)
Godhead
Shōgun Jizō Bosatsu
Sect
Omuro Shingon
Honzon mantra

| | | | | | | | |
| --- | --- | --- | --- | --- | --- | --- | --- |
| おん | かかかび | さんまえい | そわか | | | | |
| On | kakakabi | sanmaei | sowaka | | | | |

Goeika
Kari no yo ni chigyōarasofu muyakunari anrakukoku no shugo o nozomeyo
Place
Itano-Tokushima / Phone: +81 88-672-4111
Address
〒779-0114 Tokushima-ken, Itano-gun, itano-cho Rakan-hayashi-higashi 5
〒779-0114 徳島県板野郡板野町羅漢字林東5
Google Maps
https://goo.gl/maps/6kHWbAeipSC2 / Coord Maps 34.137222, 134.431944
Accomodation
NO
Parking
50 places 10 minibus 20 Bus / Coord Maps 34.120345, 134.377644
Website
Temple history :
Jizō-ji was founded in 1821 on the orders of Emperor Saga by Kōbō Daishi. In the 13th century the monk Jōkan, renovator of the temple, replaced the small statue (honzon) of Jizō Bosatsu by thz=e current statue of Shōgun Jizō Bosatsu. Like many other temples, Jizō-ji was destroyed by the Chōsokabe armies in the late 16th century.
Useful information:
Shikoku Pilgrimage Temple Number05 Jizō-ji : Access
Public transit
By train : From Itano Station  50 minutes walk (3.8 km)
By bus :  From Dainichi-ji Guchi bus station (大 日 寺 口 バ ス 停 停) 12 minutes (850 m).
Meteo : Jizō-ji Itano, Tokushima prefecture